Product Detail
Product Tags
Introduction:
1.The fuselage, casters, and other parts are purchased from 304 stainless steel to meet the requirements of the food industry;
2.The upper and lower door switches use Hall switches, which use the principle of magnetic induction instead of the metal detection principle used by traditional proximity switches.
3.Improve safety performance; imported saw blade, excellent performance, sharp, durable, step-less speed regulation, S-curve acceleration when starting, using frequency conversion speed regulation when starting, the saw blade is evenly stressed to ensure service life.
4.When the inverter is stopped, the inverter outputs the reverse braking current, the linear braking, and the stop within 1-2 seconds, the use is safe and the efficiency is improved.
5.The tension of the saw blade is controlled by a gas spring, which keeps the tension and deformation of the saw blade consistent during the cutting process, and the cutting is stable.
6.The body is waterproof design, the protection level is IP65. The speed of the saw blade can be adjusted according to the different cutting ingredients to prolong the service life of the saw blade.
Other Information:
About bone saw machine, we have several models, such as 260 tabletop, 260 vertical type, 300, 370, 350, 400, 500, 600.
Standard Function, 1)operate direction 2)push hands 3)back plate
Optional Functions, 1)minor adjustments 2)emergency stop 3)sliding table
Technical Feature:
| | |
| --- | --- |
| Name | Meat Bone Saw Machine Meat Cutting Machine |
| size | 720*560*1420mm |
| power | 1.1kw |
| Cutting width | 220mm |
| Cutting height | 260mm |
| Saw blade speed | 18m/s |
| Saw blade specification | 2087*16*0.56*4T |
Detailed Picture: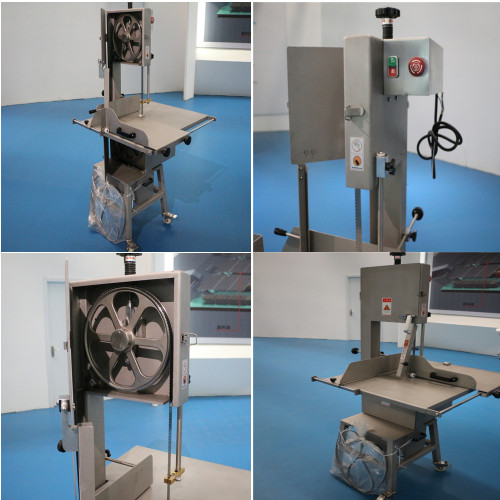 ---
---
Previous:
Vegetable dryer centrifugal spin dryer
---